Trump Clarifies Remarks on Foreign Dirt "Of Course You Give it to the FBI"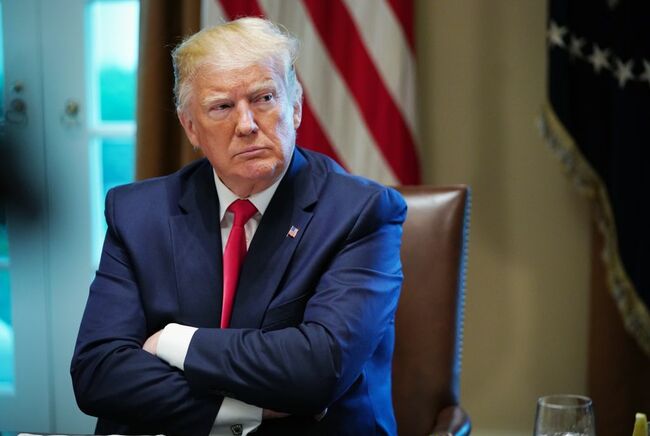 President Donald Trump appeared to clarify some of the remarks he made about foreign 'dirt' during an interview with ABC's George Stephanopoulos on Wednesday.
"Of course you give it to the FBI or report to the attorney general or somebody like that," Trump said during a live interview with Fox and Friends on Friday. "Of course you do that. I thought it was made clear." 
During an interview with ABC's George Stephanopoulos on Wednesday, President Donald Trump said if a foreign government offered him 'dirt' on one of his 2020 political opponents, he'd be open to accepting it and wouldn't necessarily contact the FBI.
Stephanopoulos was in the Oval Office with Trump when he asked whether the president's 2020 campaign would accept damaging information about his political opponents from foreign governments or if he would hand it over to the FBI, Trump said "I think you maybe you do both."
"I think you might want to listen, there isn't anything wrong with listening. If someone called from a country, Norway, [and said] 'We have information on your opponent' - oh I think I'd want to hear it."
Trump said such information was the same as "opposition research" that is widely used by campaigns at all levels.
Trump's comments even drew a rare rebuke from the head of the Federal Election Commission. Ellen Weintraub wrote on Twitter Thursday that it was illegal to "solicit, accept or receive" anything of value from a foreign national in relation to an election.
"Let me make something 100% clear to the American public and anyone running for public office: It is illegal for any person to solicit, accept, or receive anything of value from a foreign national in connection with a U.S. election," wrote Ellen Weintraub, chairwoman of the FEC. "This is not a novel concept."
"Anyone who solicits or accepts foreign assistance risks being on the wrong end of a federal investigation," Weintraub wrote. "Any political campaign that receives an offer of a prohibited donation from a foreign source should report that offer to the Federal Bureau of Investigation."
Also on Wednesday, Senate Republicans blocked a bill that would require candidates and campaigns to report to the FBI any offers from foreign governments with opposition research. Sen. Mark Warner (D-VA) called for unanimous consent to bring a bill passed by the House to the floor, but Sen. Marsha Blackburn (R-TN), objected on behalf of GOP leadership.
Photo: Getty Images