WATCH: 'WHY PUBLIC SCHOOLS SHOULD TEACH THE BIBLE'?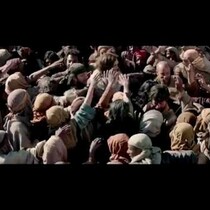 Posted March 1st, 2013 @ 11:08am
On Thursday, famed reality show producer Mark Burnett ("The Voice" and "Survivor") and his wife, actress Roma Downey ("Touched by an Angel") penned an eye-grabbing op-ed in the Wall Street Journal entitled, "Why Public Schools Should Teach the Bible." True to its title, Burnett and Downey make the case that America's children should be taught the holy book's ins and outs in classrooms across the nation.
Referring to the Bible as "the most read, most influential book of all time," the two pointed out the cultural value that the document has to Western civilization. In addition to highlighting the fact that many common phrases used in everyday language have roots in the Bible, the couple noted the that it has very literally shaped modern-day literature, entertainment and the culture at large.
WATCH:
More from Talk Radio 105.9 - KNRS